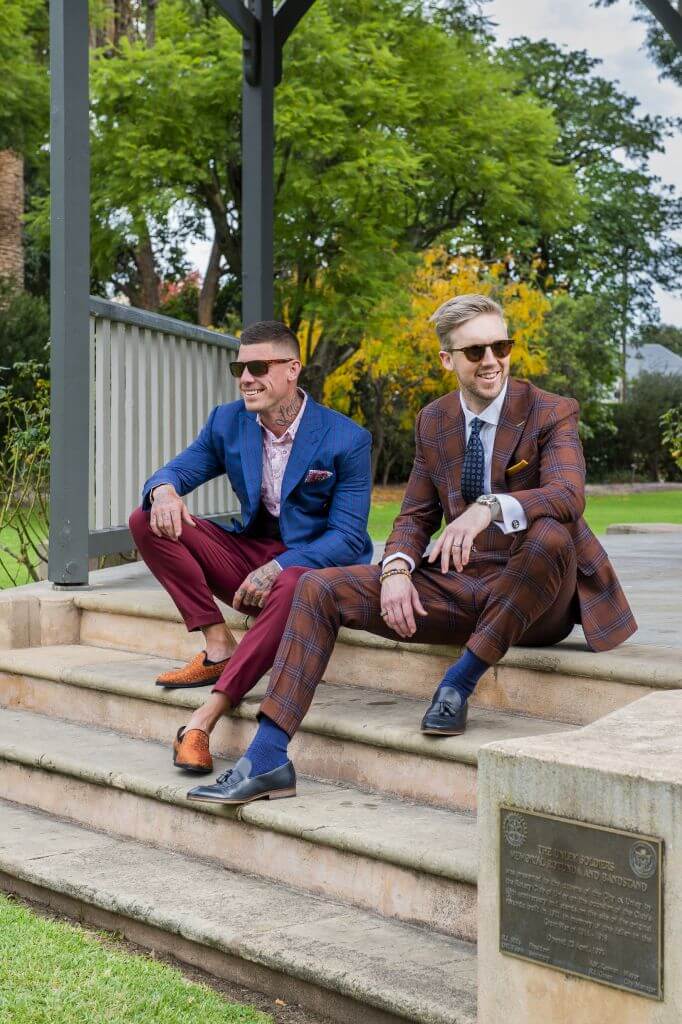 Style is a personal choice and that's why only bespoke suits will do for those gentlemen who have their own concept of style. We create our finest handmade bespoke suits under the label, "ANDREW KEMP BESPOKE". "Bespoke" means to "speak for" something. In this case, it is your own personal handmade suit that fits you perfectly in a cloth of your choosing.
Please note, appointments are required for Bespoke consultations and fittings.  Call us to book an appointment now.
Our Process
First Appointment

– Andrew will personally measure you, and you will discuss your style preferences and select the finer detail options. Details you are able to choose from include: lapels (width and style – notch, peak or shawl), vents (none, one or two), buttons (front of suit and sleeves), canvassing, lining (full, half or unlined), shoulders, pockets (internal and external), pinstitching, closure (single or double breasted) and cuffs.
Calico Fitting – The suits are created off a calico pattern that is cut by experienced artisans based off precise measurements personally taken by Andrew during the consulting process. You will try the toile – suit template – on approximately 10 days* after your first appointment. We will make any changes to the pattern here. Consequently, it is only after this point that we cut the fabric.
First Fitting – Once the fit of the pattern is confirmed, the suit is then made to the most exact standards with full canvas construction, hand-sewn button holes and contemporary styling; finally finished off using quality trimmings from England and Italy. It takes a minimum of 55 hours for our tailors to make your suit by hand. 6 weeks* after your initial consultation, you will try your full suit on. We will pin up any final alterations at this point and complete them in house.

Final Fitting

– At this point your suit is ready to collect. We now have your pattern and any further suits do not require the interim stages.
Cloth
Cloth from the world's finest merchants is available in-store. Browse through hundreds of different choices in swatch books over a coffee in our luxury boutique. The choices are endless; from Super 160's wool and Vicuna, to classic tweeds and wool blends as well as cottons and linens; we certainly have a fabric to "suit you". Scroll through to the bottom of the pages to click through and visit the domains of the main cloth merchants in Europe.
Starting from $2495, our bespoke suits are the only choice for those gentlemen who are particular about what they wear, those that require longer or shorter fitting suits or those that have a special occasion to attend. Please keep in mind that a suit of this quality and painstaking detail is handcrafted and takes time to create; an Andrew Kemp Bespoke suit takes approx 8 weeks* from placement of order to completion.
Andrew Kemp Bespoke trousers, vests and skirts are also available in a variety of cloths from $399. Are you looking for a pair of cotton chinos that fit in a style of your choosing? Tailor make in a variety of colours and cloth weights from only $399.