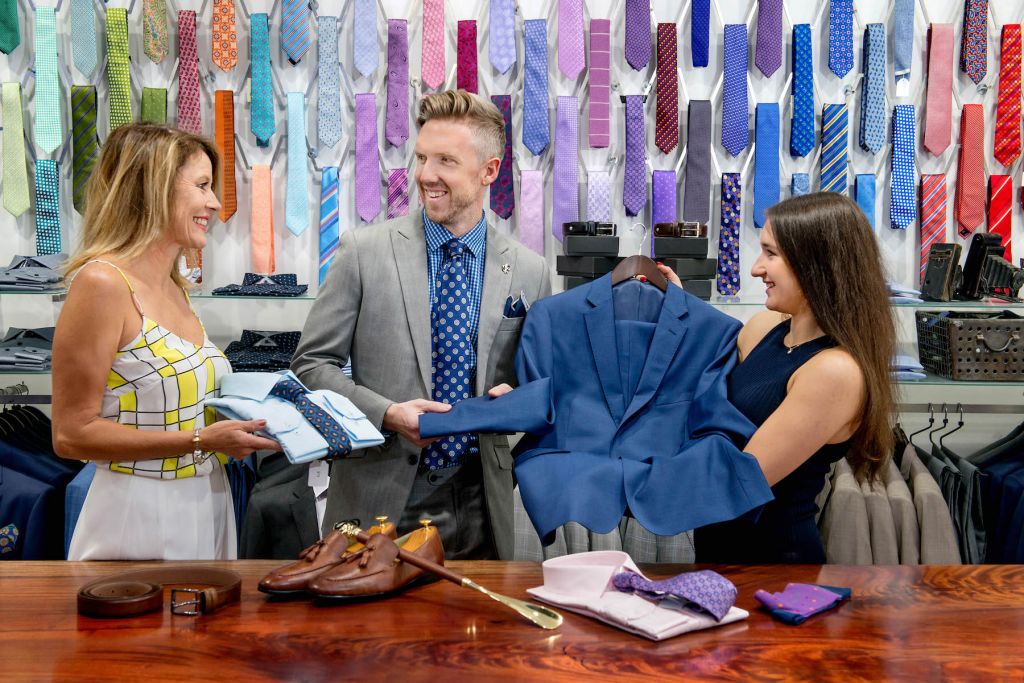 Andrew Kemp Tailored, exclusive to Tailors of Distinction, is an affordable suiting option. Choose your suit off the rack in your choice of colour in the very latest styles. Then allow us to perfectly tailor it to fit. Extra trousers and vests are also available at a discounted price.
All of our suits are made from 100% Australian Merino wool. The Super 120 weight is perfect for a year-round Australian climate. Natural wool fibre means the suit will remain breathable in summer, yet will keep you warm in winter.
Extra Service
Do you need a suit today that fits perfectly for that special occasion? We tailor your Andrew Kemp Tailored suits on-site so they can be ready for you to collect within 24 hours. With Andrew Kemp Tailored, there are no hidden costs or additional tailoring charges. Because we include all alterations costs in the initial price. Don't get caught out by cheaper-priced suits – they incur major alteration costs.
All Andrew Kemp Tailored suits come with our Famous Lifetime Warranty (conditions apply). This means that if you split a seam, break a zip, or lose a button, you can bring your suit back and we will repair it free of charge. Furthermore, if you gain or lose weight (within 12 kg) we cover limited alterations, to make your suit wearable again.
We also stock a wide variety of shirts and accessories to complete your formal wardrobe. Visit our online shop or our Unley Road boutique to see more.
Tailors of Distinction stock Black, Navy, modern blue, and charcoal suits in most sizes every day. These suits in many cases are available the same day after adjustments for the very important events where you are expected to wear a suit. In general, the turnaround time is 3 to 5 days. If we don't have your size in store we generally need an extra 1 to 2 weeks. These suits are fully tailored to fit cost of $999 on average. Sizes from 92 cm chest to 136 cm chest are generally available. Some of the suits are available in short, regular, and long fittings. We can tailor the fit to the client's body shape, extra trousers or vest can be ordered.
Tailors of Distinction now stock a platinum range of tailored suits that NO OTHER store or shop in Australia supplies. These suits are designed by Tailors of Distinction and are exclusive to us. The suits are made from the finest wool and include such features as Surgeons' cuffs on the jacket sleeves, [ Fully operational buttons and button holes ] we manufacture around 6 suits of each cloth, and once sold we select new cloths and linings for the next range. There is an option of second trousers available. The linings are creative and fun and the jacket comes with a matching pocket hank to the lining inside the jacket. The suit is fully tailored to fit. Sizes from 92 cm chest to 128 cm chest. Price $1299, extra trousers or vest can be ordered