A Cambridge tailored garment is the last word in well-groomed confidence. Quality fabrics merge with a modern cut to create an everyday wardrobe staple for work, special occasions, and everything in between. Tailoring suits since 1867, Cambridge never fail to deliver on superior craftsmanship, quality and value. A supremely wearable fit, sturdy construction, and sharp styling guarantee you'll always look the part.
Remaining true to their heritage, the brand's collection of refined twills, pinstripes, checks and herringbones are well made classics sure to become long term favourites. Only available from retailers who share their passion and knowledge of tailoring, you'll be sure to find the perfect fit for you. It's a simple enduring fact, a Cambridge tailored garment is always a brilliant investment.
Cambridge believe in the right of every man to look good in clothes that fit, that flatter, that last.
That's been their driving force since 1867. By the end of the nineteenth century they had mastered the art of making clothes well. Consequently, settlers turned into gentlemen without the Savile Row price tag.
That's a lot of tailoring and years of experience.
Now they know every rule in the book.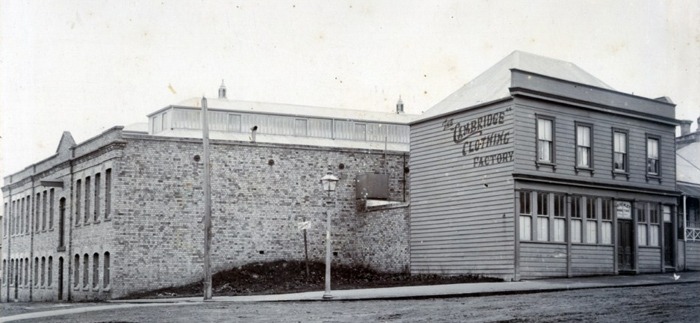 Cambridge Clothing Factory, Auckland 1892
Click here to see more casualwear brands.