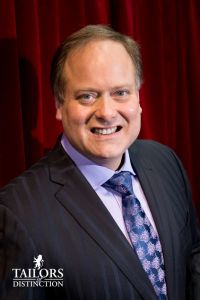 ANDREW KEMP
Managing Director, Andrew Kemp, learned his trade in England, famous for its bespoke tailoring tradition. Over 30 plus years since first taking an apprenticeship in tailoring, Andrew has never lost the personal enjoyment that comes from seeing his clientele wearing tailored garments of impeccable style and construction.
Andrew was first introduced to tailoring at a very early age through his parents. Andrew's father, after training and working as a tailor on London's famous Savile Row, began his own business in 1964 in Hornchurch, Essex.
Known as John's Tailoring, this family business operated for 27 years, providing Andrew with a rich creative environment in which to develop his skills. He then completed his apprenticeship at the London College of Tailoring, and also completed a Degree in Design and Technology.
Andrew then branched out, opening his first shop at the age of 21 at Southend-on-Sea in 1985. During this period of time, Andrew made suits for Roger Daltrey, Bob Hoskins for the movie Mona Lisa, and Jacquelyn Smith in Charlie's Angels. He created over 100 suits for the movies Kane and Abel and First Among Equals which starred Sam Neil. At the age of 24, Andrew opened a large facility producing over 700 garments a week, supplying such clothing establishments as Harrods, Selfridges (London), High and Mighty, and Long Tall Sally.
At the age of 27 Andrew moved to Australia and opened Tailors of Distinction on September 8, 1995. Since establishing himself in Adelaide, Andrew has suited the Premier of South Australia, Hon Mike Rann, State Member for Unley, Mr David Pisoni MP, Greg Myer, Barry Fitzpatrick, Mark Bickley, and Dean Brogan. Tailors of Distinction also has the honour of being tailor to the office of Governor General, South Australia, suiting up both the former Governor General, Rear Admiral Kevin John Scarce AC, CSC, RANR as well as the current Governor General, His Excellency the Honourable Hieu Van Le AO
In 2002, Tailors of Distinction created the suits for the movie Black and White, set in the 1950s, starring Robert Carlyle and Charles Dance. Tailors of Distinction has worked with the South Australian State Theatre Company, creating costumes for the 2008 play Architektin. Reviewer Murray Bramwell, writing in The Australian, described them as "nifty period costumes, in stylish greys and black, elegantly lit…, completing the visual style."
Under the label "ANDREW KEMP BESPOKE", the suits are created off a calico pattern that is cut by experienced artisans based off precise measurements personally taken by Andrew during the consulting process. Once the fit of the pattern is confirmed at the next session, the suit is then made to the most exacting standards with full canvas construction, hand-sewn button holes and contemporary styling; finally finished off using quality trimmings from England and Italy.
Andrew has actively supported such charities as Pink Ribbon, the McGrath Foundation, and Make a Wish foundation. Andrew is considered among peers as a savvy entrepreneur and Adelaide style icon, always impeccably dressed and noted for bringing luxury tailoring to Adelaide. Tailors of Distinction currently make some of the finest handcrafted bespoke suits available anywhere and were recently cited in "The Australian" as one of Australia's foremost tailors.